It is a WRAP!
Work Well!
RESPECT
Everyone!
Self
Property
Environment
Children
Teachers
Attitude!
Participation
1. Listen and look at the teacher when she is speaking to you or the entire class.
2. Respect others around you, including the teacher as well as yourself.
3. Be responsible for the tools and materials you use, including cleaning up after yourself.
4. Do your best.
Every job is a self-portrait of the person who did it. Autograph your work with excellence.
During the school year the students will learn the basic fundamentals of art which include the elements of art and the principles of design. They will be exposed to learning different methods of art and are given opportunity to use many types of art materials or media. A variety of two-dimensional as well as three-dimensional project assignments will be given as time allows.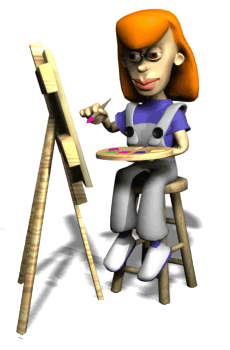 A
lways come in silently
R
espect teachers, each other and yourself
T
ake care of supplies
I
'll clean up after myself
S
tand in line quietly
T
ry
ART stands for Attitude, Respect and Try
Here we are in art class;
it's better than the rest.
We're gonna learn a lot,
but there's 3 steps on our quest.
A is for attitude,
it has to be real good.
R is for respect,
and we'll give it like we should.
T is for try,
and our best we'll always do.
Attitude, respect, and try
by the teacher, me and you!